Button Head Solid Rivet Engineering Size Chart
AMERICAN STANDARD SMALL SOLID RIVETS:
For a comprehensive set of specs, see ANSI/ASME Standard ASME B18.1.1. This standard covers complete general and dimensional data for those types of small solid rivets recognized as "American National Standard". All other types of small solid rivets, within the limits of the diameters contained herein, are to be considered special. Also included is an appendix covering formulas on which dimensional data are based.
Button Head Rivet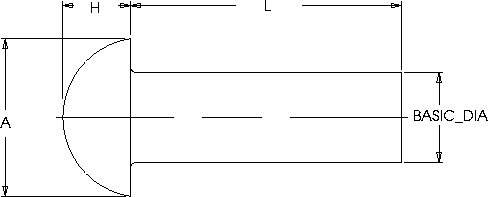 (Units are in Inches)

BASIC DIAMETER

A
Head Diameter
H
Head Height

.5

0.8750

0.3750

.625

1.0940

0.4690

.75

1.3120

0.5620

.875

1.5310

0.6560

1

1.7500

0.7500

1.125

1.9690

0.8440

1.25

2.1880

0.9380

1.375

2.4060

1.0310

1.5

2.6250

1.1250

1.625

2.8440

1.2190

1.75

3.0620

1.3120
Related