Related Resources: Technology Engineering
Model T Ignition Coil Part I
Engineering Applications and Design
Model T Ignition Coil
Part I: The Ford/K-W Ignition Company Story
Trent Boggess, Department of Business, Plymouth State College
Ronald Patterson, Medway, MA
13 pages

Open: Model T Ignition Coil Part I
Free Membership Minimum Required
"All in all, the magneto commutator coil units supplied by the Ford Motor Company did a better and more creditable job than anything offered by the accessory firms."
Reminiscences of H.L. Maher
What could be more characteristic of a Model T Ford than a box containing four vibrator ignition coils on the dash? Coils that always sound like a nest full of angry bees. Coils that sometimes will reward the Model T driver with a "free start" if when the engine was turned off, one of the pistons stopped just after top-dead center on the compression stroke.
The vibrator ignition coil system did not originate with the Model T, nevertheless; the Model T was its most famous application. In this and the following two articles we will attempt to comprehensively present the story of the Model T ignition coil. Part 1 presents a brief history of the Model T ignition coil beginning with the evolution of the timer and vibrator coil ignition system in early Ford design automobiles. We will also go on to describe the various brands of ignition coils used on Model Ts during the first five years of production and some of the problems that developed with these coils.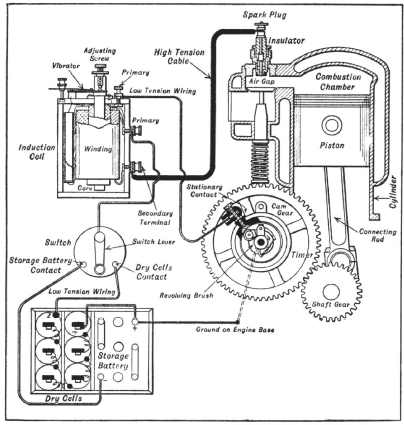 Photo 1: A simple vibrator coil ignition system showing the layout of the
commutator, coil and wiring. Illustration from Victor Page The Model T Ford Car,
ing the first success- 1917 Edition, Norman W. Henley Publishing Co, NY, 1917, p. 74.

© Copyright 2000 - 2020, by Engineers Edge, LLC www.engineersedge.com
All rights reserved
Disclaimer | Feedback | Advertising | Contact
Date/Time: