Acme General Purpose Screw Threads per. ASME/ANSI B1.5
This ACME Thread General Purpose Design Calculator will determine the three classes of General Purpose, 2G, 3G, and 4G, for the external and internal threads. In application, it is suggested that external and internal threads of the same class be used together for general purpose assemblies, Class 2G being the preferred choice. If less backlash or end play is desired, Classes 3G and 4G are provided.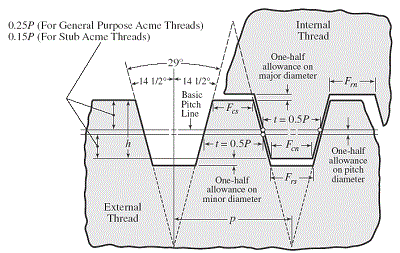 Equations utilized in this calcualtor are derived from ASME/ANSI B1.8.
Related:

© Copyright 2000 - 2021, by Engineers Edge, LLC www.engineersedge.com
All rights reserved
Disclaimer | Feedback
Advertising | Contact | Privacy Policy
Date/Time: