Related Resources: hardware
Class 5 Interference-Fit Threads Torques and Interferences
Torque Design Menu
ANSI Hardware Design Guide and Charts
Torques, Interferences, and Engagement Lengths for Class 5 Interference-Fit Threads
Reference: ASME B1.12-1987 (R2013)
Nominal Size

Interference
on
Pitch Diameter

Engagement Lengths, External Thread Lengths
and Tapped Hole Depths1

Torque at
1-1⁄4D
Engagement
in Ferrous
Material

In Brass
and Ferrous

In Nonferrous
Except Brass

Max

Min

Le

Ts

Th
min

Le

Ts

Th
min

Max,
lb-ft

Min,
lb-ft

0.2500-20

.0055

.0003

0.312

0.375 + .125 − 0

0.375

0.625

0.688 + .125 − 0

0.688

12

3

0.3125-18

.0065

.0005

0.391

0.469 + .139 − 0

0.469

0.781

0.859 + .139 − 0

0.859

19

6

0.3750-16

.0070

.0006

0.469

0.562 + .156 − 0

0.562

0.938

1.031 + .156 − 0

1.031

35

10

0.4375-14

.0080

.0008

0.547

0.656 + .179 − 0

0.656

1.094

1.203 + .179 − 0

1.203

45

15

0.5000-13

.0084

.0010

0.625

0.750 + .192 − 0

0.750

1.250

1.375 + .192 − 0

1.375

75

20

0.5625-12

.0092

.0012

0.703

0.844 + .208 − 0

0.844

1.406

1.547 + .208 − 0

1.547

90

30

0.6250-11

.0098

.0014

0.781

0.938 + .227 − 0

0.938

1.562

1.719 + .227 − 0

1.719

120

37

0.7500-10

.0105

.0015

0.938

1.125 + .250 − 0

1.125

1.875

2.062 + .250 − 0

2.062

190

60

0.8750- 9

.0016

.0018

1.094

1.312 + .278 − 0

1.312

2.188

2.406 + .278 − 0

2.406

250

90

1.0000- 8

.0128

.0020

1.250

1.500 + .312 − 0

1.500

2.500

2.750 + .312 − 0

2.750

400

125

1.1250- 7

.0143

.0025

1.406

1.688 + .357 − 0

1.688

2.812

3.094 + .357 − 0

3.095

470

155

1.2500-7

.0143

.0025

1.562

1.875 + .357 − 0

1.875

3.125

3.438 + .357 − 0

3.438

580

210

1.3750-6

.0172

.0030

1.719

2.062 + .419 − 0

2.062

3.438

3.781 + .419 − 0

3.781

705

250

1.5000-6

.0172

.0030

1.875

2.250 + .419 − 0

2.250

3.750

4.125 + .419 − 0

4.125

840

325
1Le = Length of engagement.
Ts = External thread length of full form thread.
Th = Minimum depth of full form thread in hole.

Maximum Interference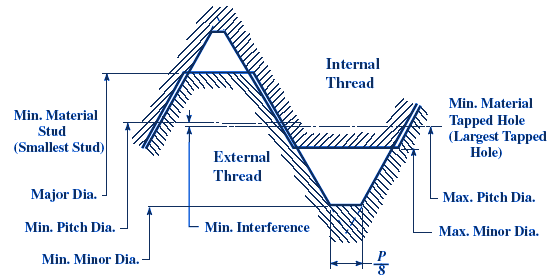 Minimum Interference
Friction between the nut, bolt head or washer may need to be determined as part of specifying an accurate fastener torque.
Class 5 External Threads are designated as follows:
NC-5 HF—For driving in hard ferrous material of hardness over 160 BHN.
NC-5 CSF—For driving in copper alloy and soft ferrous material of 160 BHN or less.
NC-5 ONF—For driving in other nonferrous material (nonferrous materials other than copper alloys), any hardness.
Class 5 Internal Threads are designated as follows:
NC-5 IF—Entire ferrous material range.
NC-5 INF—Entire nonferrous material range.
Related: