Related Resources: hardware
Key and Spline Drive Bit Tools per. ASME B18.3
Key and Spline Drive Bit Tools per. ASME B18.3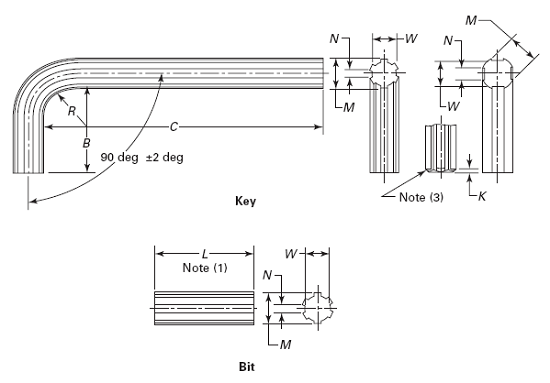 Dimensions or Key and Bits, all units in inches.
Nom.
Key
Size

Major
Diameter
M

Minor Diameter
W

Num
of
Spline

Width
of
Space
N

Length
B

Length
C

Min.
Radius
of
Bend
R

Max.
Chamfer
K

Short
Series

Long
Series

0.033
Notes:
(1) Bits are available, but lengths have not been standardized.
(2) Spline Keys are furnished as Short Arm Series or Long Arm Series.
(3) Each end shall be square with the axis of each arm within 4 deg, and edges may be sharp or chamfered at the option of the manufacturer. The chamfer shall not exceed the values listed.
(4) Material (Steel Alloy). The spline keys shall be fabricated from an alloy steel having two or more of the following alloying elements: chromium, nickel, molybdenum, or vanadium, in sufficient quantity to ensure that the specified minimum hardness of 48 HRC at the surface for nominal sizes up to and including 0.372 in., and 45 HRC for nominal sizes over 0.372 in., is met when spline keys are hardened by quenching from the austenitizing temperature and tempered.