Manufacturing Knowledge Menu
Diamond Wire Cutting Services
Diamond Wire Cutting Saw Review
A diamond wire cutting saw often referred to as a "wire saw" is a machine or method that uses a diamond coated metal or ceramic wire for cutting. There are two general methods utilized by diamond wire cutting saw machines: continuous (or endless or loop) and oscillating (or reciprocating). The Diamond wire cutting method was first introduced in the 80's and produced a tremendous increase of productivity in quarrying.
The wire can have one strand or many strands braided together. The wire saw uses the diamond bit abrasions to remove material in the path of the wire. Depending on the application, diamond material may or may not be used as the abrasive. A single-strand saw can be roughened to to function as the abrasive, abrasive compounds can be bonded to the cable, or diamond-impregnated beads (and spacers) can be threaded on the cable. Diamond wire saws are often cooled and lubricated by water, oil or specialized cutting fluids.

Diamond Wire Machine
Diamond Wire: The diamond wire is available in a various diameters and lengths and is impregnated with diamond dust of various sizes. Due to the hardness of the diamonds, this cutting method can cut through almost any material that is softer than the diamond abrasive.
This wire cutting method can be less expensive than some other cutting techniques, as of early 2010, thin diamond wire only cost around 40-70 cents per foot for 140 to 500 micrometer diameter wire.
Typical Applications: Applications of diamond wire cutting include cutting concrete, stone (marble, quarts), ferrous and nonferrous metals, dismantling large steel structures (decommissioned ships) and other large hard structures or materials. Other extreme applications include sub sea (deep water) cutting of pipelines, wellheads, conductors, drill strings and various other underwater structures. The diamond wire cutting method utilizes the surrounding water as a lubricant and minimizes pollution and contaminants created by other cutting processes.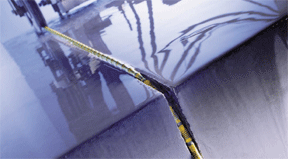 Diamond Wire Cutting Stone
Manufacturing Advantages: Diamond wire cutting (DMC) produces less kerf (wasted material) when compared to flame cutting, blade cutting or machining and can be utilized on very large objects. With proper lubrication and cooling, less heat energy is transferred to the materials being cut resulting in less heat induced stress and material distortion.
Manufacturing Disadvantages: Diamond wire cutting is not as robust as other cutting processes, such as diamond blade, milling, band saw, wire EDM, flame cutting and other similar materials cutting processes.


© Copyright 2000 - 2018, by Engineers Edge, LLC www.engineersedge.com
All rights reserved
Disclaimer | Feedback
Advertising | Contact | Privacy Policy
Date/Time: