Related Resources: mechanics machines
Block Brake Design Equations
Machine Design and Application
Block Brake Design Equations
The friction force is applied through a luck made of, or lined with, a friction material.
The brake can operate with either direction of rotation, but the friction torque is greater in one direction than the other. As in all friction brakes the limiting factor is the allowable pressure on the friction material.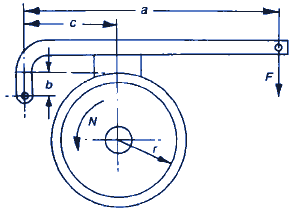 Where:
T= braking torque
F = applied force
N = speed of rotation
a = lever arm
A = block contact area
r = drum radius
c = distance from belt attachment to fulcrum
µ = coefficient of friction
Use the positive sign for directions shown in the figure and the negative sign for opposite rotation (greater torque).

© Copyright 2000 - 2018, by Engineers Edge, LLC www.engineersedge.com
All rights reserved
Disclaimer | Feedback | Advertising | Contact
Date/Time: