Related Resources: mechanics machines
Multi Plate Disk Clutch Design
Machine Design and Application
Multi Plate Disk Clutch Design
Internally expanding friction shoes are held in contact, by the force due to rotation against the force of a light spring. The torque capacity increases as the speed increases.

Torque capacity T= n x torque for one plate
where:
n=number of pairs of surfaces (6 in the example shown in the figure).
See Disk Clutch Design and Equations for more...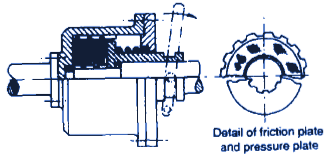 © Copyright 2000 - 2018, by Engineers Edge, LLC www.engineersedge.com
All rights reserved
Disclaimer | Feedback | Advertising | Contact
Date/Time: