Flat Plain ANSI Type A Washer Size Table Chart
Plain washers are made of ferrous or non-ferrous metal, plastic or other material as specified. The tolerances indicated in the tables are intended for metal washers only.
American National Standard Type A Plain Washers - Preferred Sizes ANSI/ASME B18.22.1-1965 (R1998)
a Nominal washer sizes are intended for use with comparable nominal screw or bolt sizes.
b the 0.734-inch, 1.156-inch, and 1.469-inch outside diameters avoid washers which could be used in coin operated devices.
All dimensions are in inches.
Designation "N" (narrow) and the Standard Plate "W" (wide), these sizes as well as all other sizes of Type A Plain Washers are generally specified by ID, OD, and Thickness dimensions.
Location Tolerances: Inside and outside diameters shall be concentric to within the specified inside diameter tolerance.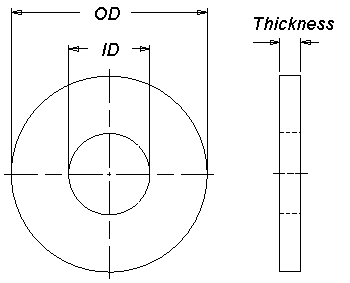 Nominal Washer Size
a