I am looking at building a trailer. I purchased a plan for a 6' by 16' trailer that I am sure will work but I get the feeling I could build it as strong with different materials which cost less.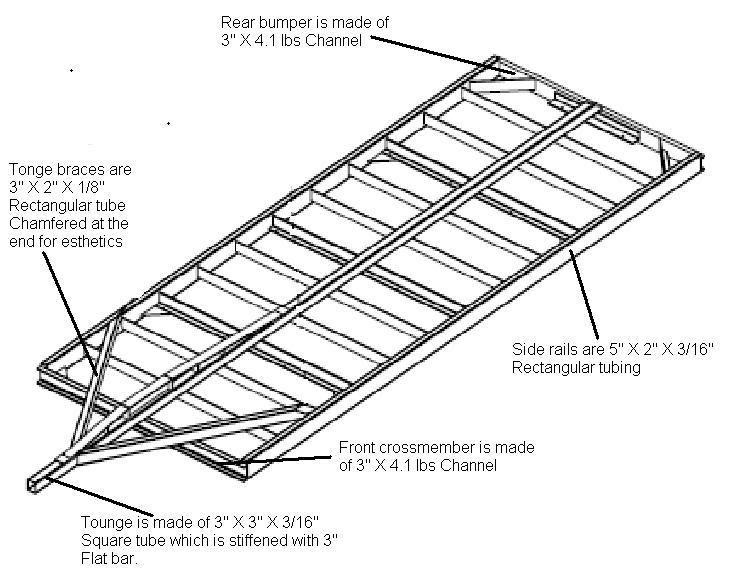 The trailers I see around here use a v shape made out of c- Channel at the front, which the ball coupler attaches to. The plan uses a square tube, which runs from the rear of the trailer to the front and extends out 4 feet which is braced by 3 x 2 x 0.125 rectangular tubing and the coupler mounts to the end of the square tube.
Also the plan calls for 5 x 2 x0.188 (3/16") rectangular tubing for the side rails, which the axles mount to. I have checked out a few trailers around here and all of them use a 5" @ 9 lbs or 5" @ 6.7 lbs I can't tell without measuring the width of the channel.
The other thing I am in question about is they use a 3" @ 4.1 lbs channel for the front and rear "bumper" the trailers I looked at used the same size channel as the sides for the front and a 6" X 2" X ? Rectangular tube on the rear.
I don't want to play around with the design too much and mess up the axle placement and weight ratios etc. but if I use there design I will be using a lot more material and it will cost me more.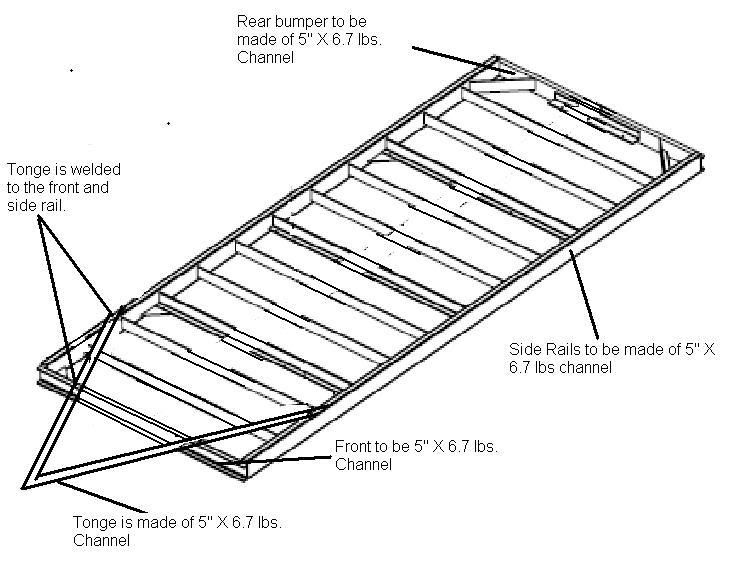 So my questions are:
-Would 5" @ 6.7 lbs. be sufficient for the side rails. Compared to 5" X 2" X 3/16" tubing which weights 8.15 lbs/foot loose 46 lbs. this way and save $80 in price.
-If I go with a two link front made of 5" @ 6.7 lbs Channel instead of the 3 link made of 3 X 3 X 3/16" square tube braced by 3 X 2 X 1/8" rectangular tube, would I have the same strength?
-I know the front and rear cross members/ bumper will be fine with a larger piece of channel on the front and rectangular tube on the rear. I want to just put channel on the front and the rear.
I know the drawings are crude. Any help would be appreciated.