Dowel Pin Installation Design Tolerance Table Chart
Hardware ANSI Menu
Mechanical Tolerance Standards Charts
Dowel Pin Size Chart Machined ASME ANSI
Design for press and slip fit of dowel pins used for alignment of mating parts utilizing GD&T tolerancing methods.
Review your design to determine if you have similar application requirements. Should these design guideline be inadequate, reference the charts given within the Hole - Shaft tolerance pages.
General
Typical material is 6061-T651, per QQ-A-250/11 or similar aluminum alloy for the base mating components.
Dowel Pin - are stainless steel 304, 306, 18-8 etc .. or similar.
Application - These fits are for location or alignment applications between two components. Some shear load is acceptable, designer should determine acceptable stress limits for their particular application.
These fits are not line-to-line . Fixed fastener calculations will show minimal interference between dowel pins and slip fit holes. Dowel pins should be installed into press fit holes after finishing processes and not removed there after. After the mating components are assembled the first time, one should note assembly orientation for repeat assembly of mating dowel pins. It is optimal to design for one configuration assembly (fool - proof).
See bottom of page for application illustrations.

Dowel Pin
"D"
Diameter

Press Fit Hole

Slip Fit Hole

Hole Depth
"MD" MIN.

Pin Engagement
"E"

.031

Dia .0305 +/-.0005
V Dia .040 MAX. X 90°

Dia .0320 +/-.0005
V Dia .040 MAX. X 90°

.055 +/-.010

.025 +/-.010

.062

Dia .0620 +/-.0005
V Dia .080 MAX. X 90°

Dia .0635 +/-.0005
V Dia .080 MAX. X 90°

.070 +/-.010

.040 +/-.010

.094

Dia .0935 +/-.0005
V Dia .120 MAX. X 90°

Dia .0955 +/-.0005
V Dia .120 MAX. X 90°

.095 +/-.010

.060 +/-.015

.125

Dia .1245 +/-.0005
V Dia .160 MAX. X 90°

Dia .1265 +/-.0005
V Dia .160 MAX. X 90°

.110 +/-.010

.075 +/-.015

.187

Dia .1870 +/-.0005
V Dia .240 MAX. X 90°

Dia .1895 +/-.0005
V Dia .240 MAX. X 90°

.145 +/-.010

.110 +/-.015

.250

Dia .2495 +/-.0005
V Dia .315 MAX. X 90°

Dia .2520 +/-.0005
V Dia .315 MAX. X 90°

.175 +/-.010

.140 +/-.015
These illustrations are toleranced per ASME Y14.5M - 1994 and ASME Y14.5-2009
Units are in Inches

Dowel Pin Installation Design
Click Images for Larger Images (Pop-up)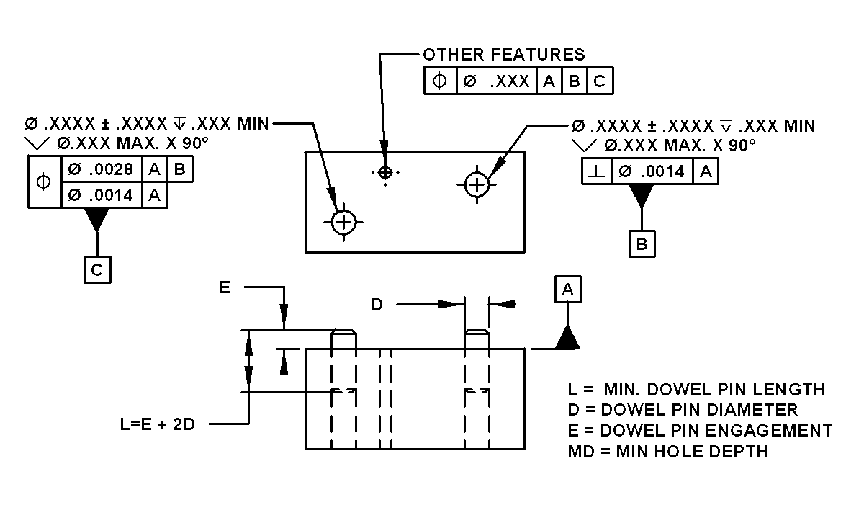 Related: