Plastic Snap Fit Straight Beam Dynamic Strain Equation Calculator
(This calculator requires a java - enabled browser)
Open: Plastic Snap Fit Straight Beam Calculator
This calculator calculates the Dynamic Strain of a cantilevered flexing finger typically used in plastic snap fit type designs.
This calculator will calculate the unknown for the given conditions.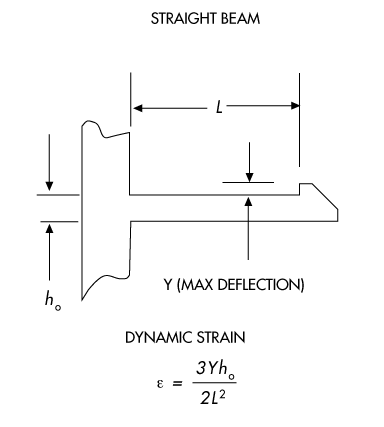 Four (3) inputs are required, See the application illustration at bottom of page.
The following are definitions for the elements:
E = Dynamic Strain (unit less)
Y = Maximum deflection (in, mm)
ho = Thickness at base of finger (in, mm)
L = Length of finger (in, mm)
Check calculated strain against material mechanical specifications.
Open: Plastic Snap Fit Straight Beam Calculator
The Dynamic Strain, also called stretch ratio or extension ratio is a measure of the extensional or normal strain of a differential line element, which can be defined at either the undeformed configuration or the deformed configuration. It is defined as the ratio between the final length and the initial lengthof the material line.